CE Certification
As of April 2018, all motorcycle garments now fall under the scope of the PPE Regulation 2016/425. This essentially means that for manufacturers who produce garments for use on a motorcycle, it is now deemed as Personal Protective Equipment, and should be officially tested and certified as such.
These tests should be carried out against a strict set of standards, in order to prove and measure compliance, and once certified, those products must show a declaration of their compliance via the "CE" labelling and marking of the product.
"CE" stands for Conformité Européenne" (French for European Conformity), and is now mandatory for all motorcycle products produced to be sold within the EU.
It is now against the law for any manufacturer to place any motorcycle garments on the market without having them officially tested and CE certified.
This means that a garment can not simply be sold as "with CE protectors" as was often the case previously, but now each individual garment and each of its composing materials must be adequately tested and certified against a strict set of standard in order to ensure compliance and provide measurable proof as to the level of safety for that product.
UKCA Certification
Following the UK's exit from the EU, there is now also the requirement for "UKCA" certification and product marking for all motorcycle products sold within the UK.
Currently the UK is within a transitional period with regards to UKCA certification, and so during 2021, products can still be placed onto the UK market with just a CE certification.
From 2022, the products should have UKCA Certification, with packaging carrying the UKCA stamp, whilst the product itself does not require UKCA labelling.
As of 2023, all products will also require marking and labelling as being in compliance with UKCA.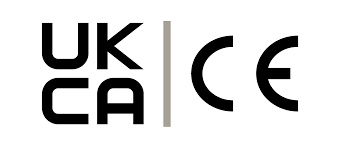 What does this mean for you?
The law requiring what motorcycle clothing you must wear, and whether that clothing must be CE Certified or not, depends upon the country in which you are riding.
In the UK, there are no legal obligations (currently) to wear CE or UKCA Certified garments when riding a motorcycle, however when riding in France (for example) by law you must ride wearing CE Certified motorcycle gloves, or may face a fine.
Ultimately, what you choose to wear in order to protect yourself whilst riding a motorcycle is your choice.
That being said, if a supplier is illegally selling motorcycle clothing in the UK without it being either CE or UKCA certified, the question you would need to ask is - why not?
At Goldtop we take rider safety very seriously, and that's why all of our products are CE certified, with our jackets all passing at the highest "AAA" level for safety.
The Methods of testing and EN 17092
In order to assess and measure the safety of garments and materials in line with the PPE regulation, the EN 17092 standard for testing and assessing motorcycle garments was created.
Whilst he EN 13594 standard is still in place for testing motorcycle gloves, previously, the EN 13595 standards were the only go-to standards for testing motorcycle garments such as jacket. Originally created for testing motorcycle apparel deemed for "professional use", these were often overlooked by most of the motorcycle industry who were producing garments deemed for "leisure use", and hence claimed exemption from the requirement for certification.
As now all motorcycle clothing must be certified, the new EN 17092 standards have been created as a way to now also certify garments typically considered for leisure motorcycle use.
The measurable results of testing against the new EN 17092 standards now also allow for various levels to be achieved by garments, depending on their intended use, and enable consumers to verify that products which claim to be protective motorcycle gear, are actually protective motorcycle gear!
Some of the physical tests which are carried out, are carried out to test the following:
Impact Abrasion Resistance
Tho ensure that the garment is, and remains protective in the even of a slide. The combination of materials which make up the layers between the skin and ground are tested to see if they can withstand a slide at different speeds. Any hole detected which is larger than 5mm results in a failed test.
Seam Strength
To ensure that all seams used are structurally strong. These tests measure the force required to rip the seam open (for example) of a sleeve attached to the body of a jacket, as nobody wants their jacket or gloves to literally fall apart at the seams in the event of a fall or slide.
Tear Strength
To ensue that the materials used do not tear easily, from a pre-existing tear. Each material is tested with a pre-slit specimen that is literally "pulled apart" from either side. In the event of a fall or slide, if a burst or tear occurs, the last thing anyone wants is for that hole or tear to easily open up further.
Burst Strength
To ensue that the impact of a sharp object does not penetrate too far through the product. This test consists of a blade being dropped from a set height above the materials used within the garment, and the distance of penetration through the garment is measured.
Innocuousness
To ensure that the chemicals used in making the materials within the product are not harmful or damaging to the wearer or the environment. These tests ensure that harmful chemicals are also not present, and that the pH of the materials is deemed safe enough to not cause skin irritation.
Risk category zoning
In order to quantify the measurable requirements for testing motorcycle garments against the EN 17092 standard, new "risk category zones" were defined to highlight different areas of the garment which were deemed to have either a higher or lower likelihood of being subject to mechanical stress or impact in the event of on accident.
The three zones are as follows:
Zone 1 - Areas with high risk from damage such as impact, abrasion, and tearing.
Zone 2 - Areas with moderate risk from damage such as impact, abrasion, and tearing.
Zone 3 - Areas with low risk from damage such as impact, abrasion, and tearing.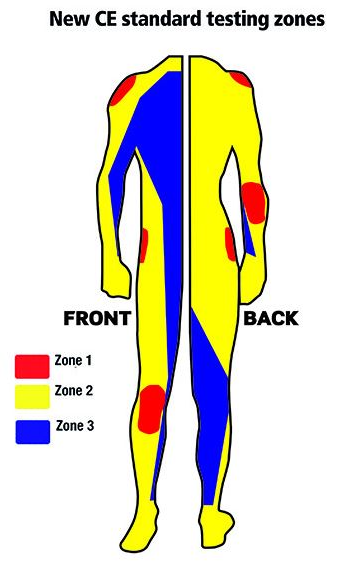 Performance Levels
The levels for garment protection for motorcycle jackets according to the new standard are determined by the levels of Abrasion Resistance, Seam Strength, and Tear Strength achieved at these different key zones on the garment.
Class AAA -  The  highest  level  of  protection, against  the  highest  level  of  risks.  Some common examples are:  one-piece or two-piece suits. These garments are likely to have severe and limiting ergonomic, weight and thermal penalties, which some riders will not find acceptable for their specific riding activities. 
Class AA - The second highest level of protection, against the risks of the greatest diversity of riding activities. Some common examples  are:  garments  designed  to  be  worn  by  themselves  or  to  be  worn  over  other  clothing.  These garments are expected to have lower ergonomic and weight penalties than Class AAA garments and some riders will not find these penalties acceptable for their specific riding activities. 

Class A - The third highest level of protection.  Some common examples are: garments, designed to be worn by them self or to be worn over other clothing by riders in extremely hot environments. Class A garments are expected to have the least ergonomic and weight penalties. 

Class B - This class is for specialised garments, designed to provide the equivalent abrasion protection of Class A garments but without the inclusion of impact protectors. Some common examples are: modular garments suitable to be combined with other garments providing impact protection. Class B garments do not offer impact protection and it is recommended that they be worn with, at least, EN 1621-1 shoulder and elbow impact protectors, in the case of a jacket, or EN 1621-1 knee impact protectors, in the case of trousers, installed in the garment, if it is designed to accept them or in another form, in order to offer complete minimum protection. 
Class C - This class is for specialised non-shell garments,  designed  only  to  hold  one  or  more  impact  protectors  in  place,  either  as  an undergarment  or  as  an  over-garment.  Class C garments are designed to provide impact protection for areas covered by the impact protector(s) and they do not offer complete minimum abrasion and impact protection. 
Please note that for gloves, the performance levels are different, and are simply defined as either Level 1 or Level 2. All of our Motorcycle gloves have been tested and certified to exceed at least Level 1 performance requirements.